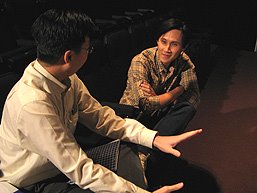 Me Interviewing Director Leonard Lai
dgital
and I were attending the press screening of the upcoming local movie The High Cost of Living, and had the opportunity to speak to the director, Leonard Lai, on his new film.
Some of the cast and crew were present at the screening as well, but it seemed like everyone was in a rush as they "disappeared" soon after the show was screened. But we did manage to spend some time with Leonard after his conversation with a Straits Times movie reviewer.
You can click at the
movieXclusive
logo below to read the interview:
Trailer
The High Cost of Living plays exclusively at The Picturehouse starting this Thursday!